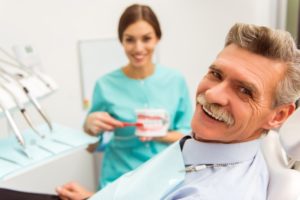 It's a common misconception that once you've lost most or all of your teeth, you don't need to bother attending dental checkups anymore. At first glance, this might make sense; after all, why would you need to see a tooth health expert if you're missing teeth? While this may seem logical, it grossly oversimplifies the reality of how your mouth works. Here are four reasons why you still need to regularly see a dentist even if you have a set of full dentures in Allen.
Maintain Dental Hygiene
Dental hygiene is important no matter how many of your original pearly whites you have left. If you have a partial denture, you still need to get your remaining teeth cleaned and examined at least twice a year, if not more frequently. Even if you have a full denture, you're still susceptible to gum disease. Plus, the denture itself could have accumulated plaque that warrants a professional cleaning.
Detect Oral Health Problems
Routine checkups allow your dentist to detect signs of oral health issues, such as gum disease and oral cancer, early enough that treatment is still fairly easy. Some research suggests that people with dentures (especially poorly fitting ones) are more vulnerable to oral cancer. That's all the more reason to get your mouth examined on a regular basis.
Adjust the Fit of Your Dentures
After tooth loss, the shape of your jawbone changes, resulting in dentures losing their once-perfect fit. Not only can this be uncomfortable or embarrassing, but ill-fitting dentures can increase your risk of gum infection or sores, TMJ disorder, and even poor nutrition. If your dentures are slipping around, making a clicking or popping sound, or causing discomfort, it's time to call your dentist.
Help Your Dentures Last Longer
At your checkup, the dentist can check for warning signs of any damage to your dentures and get them fixed promptly. They can also provide you with guidelines for taking good care of your dentures in between appointments. In most cases, if you properly maintain your dentures, they can last up to seven years before they have to be replaced.
Whether you've just lost a few teeth or an entire mouthful, it's still important to see your dentist at least once every six months. These visits can keep your smile healthy for years to come!
About the Author
Dr. Tonie Cherell Lewis is a dentist in Allen, TX with more than 15 years of experience in the dental field so far. She earned her dental doctorate from the Howard University College of Dentistry. As a proud member of the American Academy of Esthetic Dentistry, she strives to help you achieve a smile that's not only healthy, but looks great as well. You can rest easy knowing she'll ensure your dentures fit comfortably and look natural. To learn more, contact Allen Smile Design at 972-954-9728.