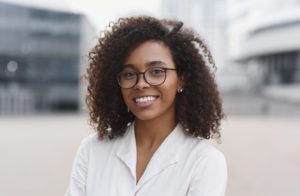 For several decades, dental implants have become a nearly perfected treatment with the power to completely restore the function and appearance of your smile. Due to its unique strategy of replacing the roots and crown of missing teeth, there's no other tooth replacement solution that can compare. If you've noticed that your dentures aren't quite cutting-it and are beginning to feel like they don't fit properly after years of use, dental implants may be the upgrade you've been looking for. Read on to learn four of the best benefits you can enjoy when you make the switch to implant dentures.
Preserve Your Facial Structure
Many patients don't realize that once their teeth are extracted or go missing, the area in their jawbone where the roots of the teeth were once secured to will no longer receive the stimulation and blood flow it needs. This will cause it to deteriorate over time, even if you have traditional dentures that you wear every day because they only replace the biting surface of your teeth. Over time, this issue can cause your cheeks to appear hollowed or droopy and other features of your face to become altered. Because dental implants restore the root structure of your missing teeth, you won't have to worry about this issue.
No Need to Fuss with Denture Adhesive
Since you started wearing your traditional denture, are you tired of having to deal with sticky and messy denture adhesive to keep your replacement teeth securely in place? Not only can this be a hassle, but it isn't always reliable. Because dental implants are fused with your jawbone, you won't have to worry about slipping or shifting dentures since they'll be anchored in your mouth.
Eat More of Your Favorite Foods
One of the most common complaints from denture-wearers is that they can't eat all of the foods that they used to. If they try, their dentures will shift from their gumline, creating an embarrassing moment. With dental implants, your replacement teeth are designed to function exactly like your real teeth. Due to their stability, you're able to chew through steak and crusty baguettes like you would with completely natural teeth, without having to worry about unstable and unreliable dentures.
Take Care of Your Smile the Way You Normally Do
Just like your normal teeth, implant dentures can be brushed, flossed, and rinsed daily. You won't need to worry about soaking them overnight or taking them out of your mouth to sanitize them, because they truly act like a permanent, home-grown dental structure. This also makes it easier to maintain your oral health with implant dentures.
There are countless additional benefits that you could enjoy when you decide to make the switch from traditional dentures to implant dentures. You can start your next life-improving (and smile-improving!) journey by reaching out to an implant dentist nearby and scheduling your initial consultation today.
About the Author
For over 15 years, Dr. Lewis has been helping her patients restore their smiles using the latest treatments and techniques in the dental field, like dental implants. She's passionate about providing her patients with custom-tailored results designed to fit their unique needs. She views dentistry as an art form, which is why she has such a keen eye for detail and creates aesthetically beautiful and functional smiles. For questions or to schedule a consultation for dental implants, visit Allen Smile Design's website or call 972-954-9728.