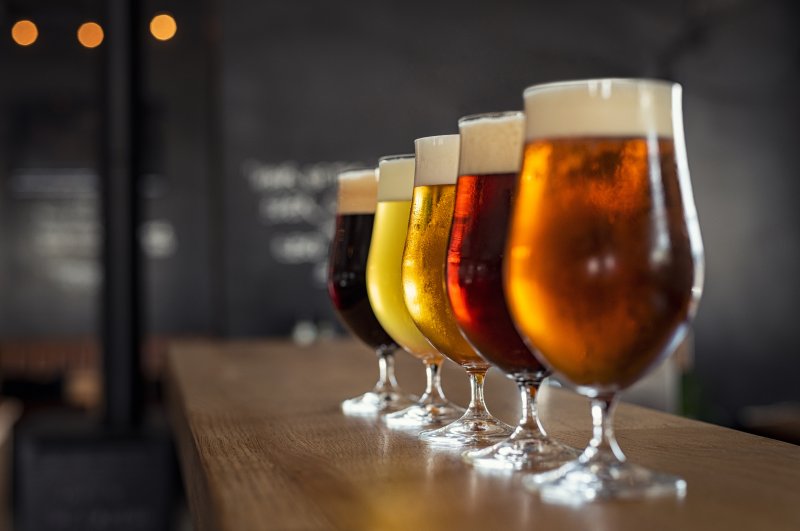 Beer – it's the chosen beverage of sports enthusiasts, summer pool-goers, and craft brewery lovers. Although historians believe its origin dates back to 5,000 years ago, this popular beverage looks very different today. In fact, you can find everything from Saturday Morning IPA by Smartmouth (which tastes like Lucky Charms) to Ghost Face Killah by Twisted Pines Brewing Company (which is brewed with jalapeno, serrano, and ghost pepper)! Whether you are a fan of creations like these or prefer to stick with the classics, you may have one important question on your mind: How does beer affect your teeth? Here's the answer!
Let's Talk Beer
From traditional stouts to much-loved IPAs, all beers are brewed with a cereal grain that turns into alcohol when fermented. When consumed in moderation, there are actually some health benefits that come with drinking this popular beverage. For example, some studies have shown that beers that are minimally processed and contain fresh ingredients can aid digestion, decrease the chance of developing kidney stones, and increase good cholesterol. Plus, the high calcium and bacteria-fighting composition can even benefit your teeth. However, before you reach for a glass in the name of your oral health, it is important to consider the risks as well.
Potential Smile-Damaging Risks to Keep in Mind
Like wine, beer does have some qualities that can make it potentially damaging to your smile. To start, dark-colored options can result in heavy stains and discoloration over time. Additionally, the acidic nature can lower the pH level in your mouth, allowing enamel demineralization to occur. The sugars that are packed into this beverage are also a concern since this ingredient is one of the biggest culprits of cavities. Lastly, alcohol consumption, even in moderation, can dehydrate your body. This can lead to decreased saliva production, which allows bacteria and food particles to cling to your teeth for extended periods of time, increasing your risk of decay significantly.
4 Tips for Protecting Your Smile
Fortunately, you don't have to forgo beer altogether to keep your smile in pristine condition. By implementing the below best practices, you can indulge on occasion without compromising the look and function of your teeth:
Drink plenty of water.
Always brush and floss your teeth before bed.
Avoid poor dental habits, like opening bottle caps with your teeth.
Visit your dentist every six months for a dental checkup and cleaning.
Beer is a beverage that has been around for thousands of years, and it isn't going anywhere anytime soon. If you enjoy sipping on this popular drink, just make sure to keep the above prevention tactics in mind so your smile isn't negatively impacted in the process!
About the Author
Dr. Lewis' passion for the dental field began when she was only eight years old. Her positive experience with her own dentist inspired her to earn her dental doctorate from the Howard University College of Dentistry. In the last 15 years, she has helped countless patients achieve and maintain pristine oral health, resulting in beautiful, fully functional smiles. If it's time for your biannual dental checkup or you are simply interested in learning more about caring for your teeth and gums at home, visit her website or give her a call at 972-954-9728.