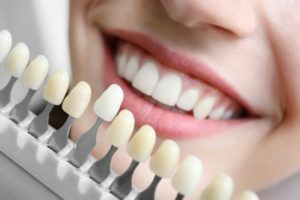 Much like how the rings of a tree trunk tell scientists about the history of its growth and the conditions it existed in, the color of your teeth tells a lot about you. No matter how often you brush them, your teeth will eventually begin to darken with age due to natural wear and tear on your enamel and the different foods and beverages you consume. There are also other outside influences that can affect them, and your Allen dentist explains what the color of your teeth says about you.
Here's What Your Tooth Color Says About You
Yellow or stained teeth are often associated with older age, however, there are people of all ages who's teeth have been affected by outside staining sources. Here are some of the different things that your teeth communicate about you:
Your Age
This is the most obvious one, but you may not be aware of the reasons behind it. A person's teeth are whitest when they are born. A large reason is that babies do not typically consume many dark colored foods and beverages, meaning their teeth will not be as stained. All of this changes when they start to lose their teeth. Did you know that permanent teeth are naturally greyer than baby teeth? Over time, as you grow and start eating solid foods and drinking a wider array of beverages, your teeth will naturally darken due to staining. The longer you live, the more stains you will acquire, which is why many people associate yellowed teeth with old age.
Genetics
While many oral issues stem from poor hygiene, some are out of your control. In certain cases, family genetics can cause a child to naturally be born with darker teeth or enamel that stains more easily. For parents who know this is an issue when it comes to their family history, it's important to be prepared. They can combat staining by teaching their children how to properly care for their teeth early on in life in order to avoid it as much as possible.
Habits
The color of your teeth can also communicate a lot about your lifestyle choices and habits. For example, the use of tobacco products is notorious for causing tooth stains and yellowing of enamel. Avid drinkers of coffee and red wine also tend to have darker colored teeth. While staining is natural, sometimes it can signal tooth decay, so be sure to stay vigilant and look out for other signs such as sensitivity or pain.
Where You Grew Up
Believe it or not, your teeth can even give others an idea of where you spent your childhood days. While many communities now add controlled amounts of fluoride to the drinking water supply, some children grew up drinking water that had too much because it was naturally occurring. Colorado Springs is a prime example. A dentist who set up practice there in the early 1900s actually dubbed the condition the "Colorado Brown Stain" due to its prevalence, and there are many other places in the world where this is also common.
As you can see, your teeth do a lot of talking about you without you having to say a word. If you do struggle with yellow or stained teeth, the good news is that your dentist can help! Talk to them about cosmetic options, such as professional whitening or veneers, that can help give you the bright and shining smile you've always wanted.
About the Author
Dr. Lewis has been practicing in the world of dentistry for 15 years, and she is passionate about helping her patients achieve the smiles of their dreams. Whether it's educating them on how to properly care for their teeth, or treating them with cosmetic dentistry to help transform their smiles, she has the skills and expertise to provide the highest quality of care. Her years of education and training make her the best choice for your next dental visit. Are you ready to get your pearly whites looking their best? Request a consultation online or call (972) 954-9728.